From Our Customers
"Mini Pet Mart is easily the best pet store in town. Not only do they have a surprisingly huge selection to rival big stores like Petsmart (who tend to carry large quantities, but not a larger selection), they will also order whatever you need. Switched to a hard to find cat food? No problem, they will start ordering it in whatever quantity you think you might need, on a regular basis…."
– C.B. (from yelp.com)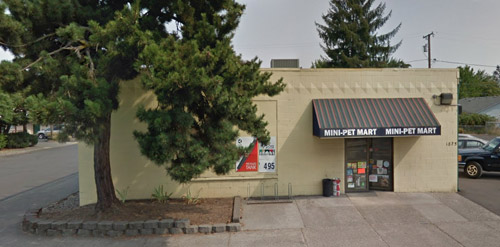 Welcome to Mini Pet Mart! Our Eugene OR pet store locations offer pet supplies, food and accessories for almost any pet. We've got a great selection and a great staff that is eager and willing to help. Whether you're looking for dog collars, cat trees or even some salt water aquarium supplies – we can help.
To view all of our pet food brands and other products, visit our products page and also check out our services page to see what all we offer.
Store Hours
Monday – Saturday 9am – 7pm
Sunday 10am – 6pm
About Eugene, OR
Known for being the hometown of the Oregon Ducks, Eugene is located right off of Interstate-5. If you are an outdoorsy person who enjoys taking your dog for walks or prefer to stay at inside and relax with your cat, Eugene is a a great place to call home. With beautiful parks, vineyards, or museums to visit you'll always have somewhere to go. And don't forget the local restaurants – we've got some good ones!